Revision Rhinoplasty to correct previously performed procedure's
A highly trained facial plastic surgeon like Dr. Bared at Facial Plastic Surgery Miami can help with a careful consultation and a professional corrective procedure. With his help, you can get the improvement you desired and be satisfied with the nose on your face.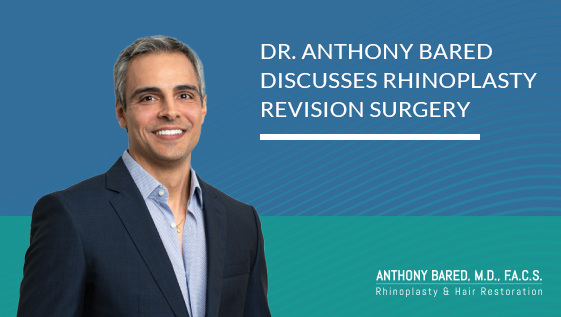 Revision Rhinoplasty Before & After Photos
Each patient is unique and individual results may vary*.
When to Consider a Revision Rhinoplasty
Rhinoplasty is a very difficult, arguably the most difficult procedure in facial plastic surgery. If you have had an unsatisfactory nose job procedure and you desire to have a corrective procedure it is very important to seek a specialist with extensive experience. Dr. Bared understands that the decision to undergo a revision surgery is not an easy decision. He works alongside you to help you attain the improvements you are seeking from a revision surgery. If you are in good general health and you have the proper motivations to have a revision surgery then you may be a candidate for a procedure. It may be necessary to wait one year after the initial nose job before having corrections performed. Dr. Bared will be able to tell you whether this is required for your specific procedure, and give you answers about why as well.
The Revision Rhinoplasty Consultation
Since you had a negative experience previously, you will probably want to be reassured that the next surgeon is a true expert in revision rhinoplasty. Dr. Bared understands this, and he will meet with you at least twice before your surgery, if your travel permits, to be sure that the results you want are clear and to establish mutual trust. During your consultation, he will make sure that your thoughts are clearly understood and communicated, so that you and Dr. Bared will be on the same page as to what the desired result is. Dr. Bared uses computer imaging as a tool of communication in order to express what can be realistically achieved in your specific case. He has extensive revision rhinoplasty experience and training, so he can correct the mechanics of your nose while simultaneously enhancing the appearance. He will analyze your nose and talk to you about a realistic outcome. Honesty is key in these situations, and Dr. Bared will tell you exactly what you can expect. He will want information from you, which may include:
Medical history
What you want corrected
The results you expect
Your personal habits and lifestyle
He will also encourage you to ask as many questions as you need in order to make you feel comfortable with proceeding to the corrective surgery. You can expect top quality advice and service to ensure your satisfaction. Additionally, all of Dr. Bared's patients are assigned a personal Patient Advisor to help answer any questions and provide necessary information. When you feel comfortable that he can meet your needs, you can schedule the revision procedure.
Dr. Bared's Approach to a Revision Rhinoplasty Procedure
Patients seek a revision for one of several reasons: they are unsatisfied with their previous cosmetic outcome, they are having difficulty breathing through their nose after their previous surgery, or they have sustained a trauma to their nose after previous surgery. Dr. Bared's experience and expertise has exposed him to the most challenging revision nasal cases. He has a wide breadth of experience in nasal cases. Dr. Bared's expertise in rhinoplasty has made him a sought-after surgeon for the most complicated cases such as reparative procedures for significant deformities as a result of skin cancer, trauma or previous cocaine abuse.
What makes revision rhinoplasty extremely complicated is the unknown anatomy which the surgeon will find during the procedure. In order, to face this uncertainty the revision rhinoplasty surgeon needs to have a large scope of experience and knowledge with many different techniques. Dr. Bared's approach to revision rhinoplasty is to fix the underlying issues and not simply to camouflage the problem. Camouflaging the problem or deformity will only increase the possibility of further issues in the future.
Rhinoplasty Revision Videos
Each patient is unique and individual results may vary*.
Building a Structural Foundation for Nose Jobs
Dr. Bared addresses both the aesthetics and the function of the nose during revision rhinoplasty. He does not use artificial implants during surgery, electing to use your own cartilage for the revision procedure. Dr. Bared avoids the use of artificial material during rhinoplasty as these have been known to increase the risk of infection and extrusion when placed under the thin skin of the nose. He uses cartilage from either the septum, ear, or rib to serve as grafts in revision surgery.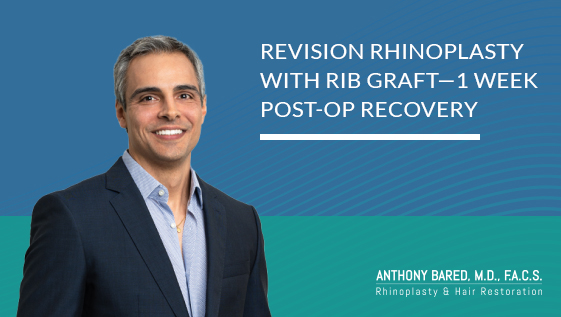 Dr. Bared believes in building a strong and solid foundation for the nose during primary and, particularly, revision surgery. Oftentimes, the very reason patients have issues after rhinoplasty and seek a revision surgery is the fact that this solid foundation was not established during the initial surgery.
It has been Dr. Bared's experience that the majority of deformities following rhinoplasty are due to a lack of structural support at the time of the initial surgery. He often sees patients who had rhinoplasty 10 to 15 years prior who may have been initially satisfied with their results, only to note a progression of a deformity, develop new deformities, develop breathing issues, and become progressively distressed.
Contraction of the skin is normal after rhinoplasty. The skin 'heals' by contracting. It is inevitable for scar tissue to form underneath the skin after any rhinoplasty.
The skin after rhinoplasty behaves like any other wound in the body. It is for this very reason why Dr. Bared performs a structural rhinoplasty, utilizing cartilage grafts. Grafts serve to give the nose its new, aesthetic shape while being able to withstand the contraction of the overlying skin envelope. In revision rhinoplasty, oftentimes the cartilage from the septum is not available. In these cases, Dr. Bared will utilize either ear cartilage or rib cartilage. The type of graft and cartilage will depend on the deformity. Dr. Bared will review these options with you at the time of your consultation.
Rhinoplasty Revision Common Issues Addressed
Dr. Bared has encountered many different issues which patients present with for a revision rhinoplasty. The most common aesthetic deformities often encountered in a revision rhinoplasty include:
pointy tip
pinched middle third of the nose
irregularities of the dorsum
overly scooped dorsum
asymmetric nostrils
open roof deformities
upturned nose
The Revision Rhinoplasty Procedure
It is imperative that a surgeon performing a revision rhinoplasty be highly trained and experienced, because it is a complex surgery that requires sophisticated knowledge. Dr. Bared's practice consists largely of Rhinoplasty and Revision Rhinoplasty – 70%.
The surgeon won't know exactly what they will find when they go in after another surgeon has performed work, and they must be ready for anything. Dr. Bared has this knowledge and training, and he will perform the surgery along this general plan:
Anesthesia in a Revision Rhinoplasty
Revision rhinoplasty is performed under general anesthesia. This will promote your comfort and safety during the operation.
Incision done in Revision Nose Job
Your revision rhinoplasty will most likely require an "open" approach, so that the doctor can see everything that was done by the previous surgeon. If ear cartilage is used, an incision is placed within the skin crease behind the ear. If rib cartilage is used the incision is made, in the vast majority of cases, in the right chest. The chest incision is placed within the crease underneath the breast in women.
Sutures in a Revision Nose Surgery
Dr. Bared will put stitches in place as necessary to promote healthy healing and minimal scarring. Dr. Bared uses the finest sutures in closing the wound and is very meticulous about the placement of the incision and its closure to ensure the best outcome. These sutures will need to be removed in a follow-up consultation.
Recovery and Results from a Revision Rhinoplasty
The procedure is generally performed as an outpatient. That is, barring any issues, you will go home the same day as the surgery. You will see Dr. Bared in the office the day following your surgery. Generally, plan to see Dr. Bared three times within the first week following your surgery. It is imperative that you follow his detailed care instructions closely for the best outcome. Dr. Bared is very cautious to prevent infections after surgery. In addition to the antibiotics you will take orally, he may have you use antibiotic nasal soaks. These are all precautions to help prevent the risk of infection after surgery. You can expect to have a splint over your nose for the first week. The sutures are in place for the first week as well. Be prepared for one week of down time from work or school, during which time you will stay indoors and avoid strenuous activity. Ice packs can be used for 24 hours after surgery to reduce swelling and pain. Give yourself time to heal properly.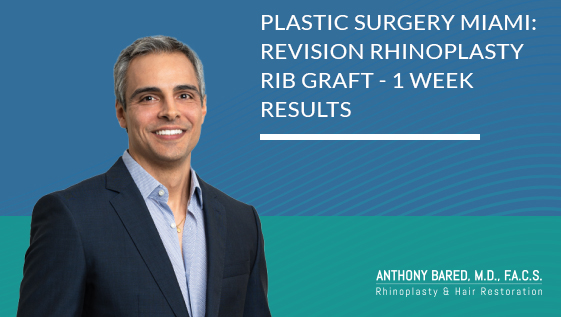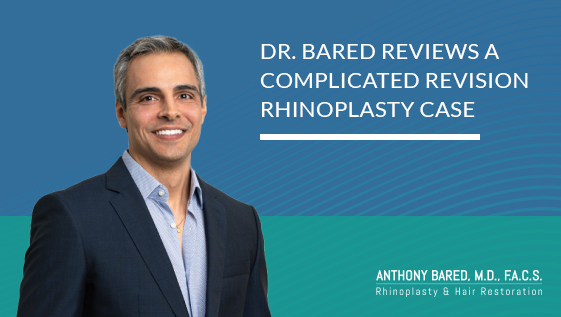 Risks of revision rhinoplasty are similar to those of a primary rhinoplasty. Risks of rhinoplasty include bleeding, infection, septal perforation, scarring, injury to the skin of the nose, nostril asymmetry, nasal obstruction, dorsal irregularities, nasal asymmetry, and, in a small subset of patients, further revision surgery.
The initial swelling from the surgery will subside over the first week to ten days. If you experienced any bruising around the eyes, you can expect for these to resolve during this time. Dr. Bared educates patients about what he describes as two types of swelling after surgery—that related to the initial surgery itself and the second related to the healing and 'redraping' of the skin. With this second form of swelling, you can expect for your nose to appear wide to you after the cast is removed. This type of swelling is normal and expected. It will take months before you begin to see the refinements that were made during your surgery. You will first begin to see the changes that were made to the profile of your nose while the changes to the frontal view of the nose may not be entirely evident. Your nose will appear slightly wide at first. These changes are due to the normal healing that takes place after surgery. The follow-up visits with Dr. Bared are very important. Follow-up visits will affect your ultimate outcome. During your follow-up visits, Dr. Bared may place small amounts of anti-inflammatory steroid injections in the nose to help with the swelling as well as have you perform nasal pressure exercises for the swelling.
Frequently asked questions about Revision Rhinoplasty
Thank You Cards from our Patients