Experience the Benefits of Non-Surgical Hair Solutions
Hair loss can challenge our self-esteem, but the thought of surgery can be daunting for many. Non-Surgical Hair Loss treatments emerge as a beacon of hope, offering effective solutions without the knife. Dive into the world of non-invasive hair restoration, where science meets aesthetics.
Zero Downtime
Get back to your routine instantly, with no post-procedure wait!
Cost-Effective
Enjoy significant savings compared to surgical counterparts, while still achieving results.
Minimally Invasive
With no scars or stitches, maintain your natural look seamlessly.
Professional affiliations & contributions
Looking for alternatives to hair transplant procedures?
There are new, non-surgical options available today that may help to slow down, stop, and even thicken existing hair. Medical treatments such as minoxidil (Rogaine) and finasteride (Propecia) are reliable treatments for hair loss.
As a facial plastic surgeon who treats hair loss through hair restoration procedures, Dr. Bared also sees many patients who are seeking alternative options for their hair loss or may have had a hair transplant surgery but also want to slow down the progression of hair loss. With the patients, Dr. Bared evaluates with hair loss many either find treatments such as Rogaine to be inconvenient or are not willing to take a daily medication such as Propecia.
Although these medications are proven to help with hair loss, today there exist other options for both male and female patients with hair loss. In the recent past, low-level laser light therapy and platelet-rich plasma treatments have evolved as viable treatment plans for hair loss.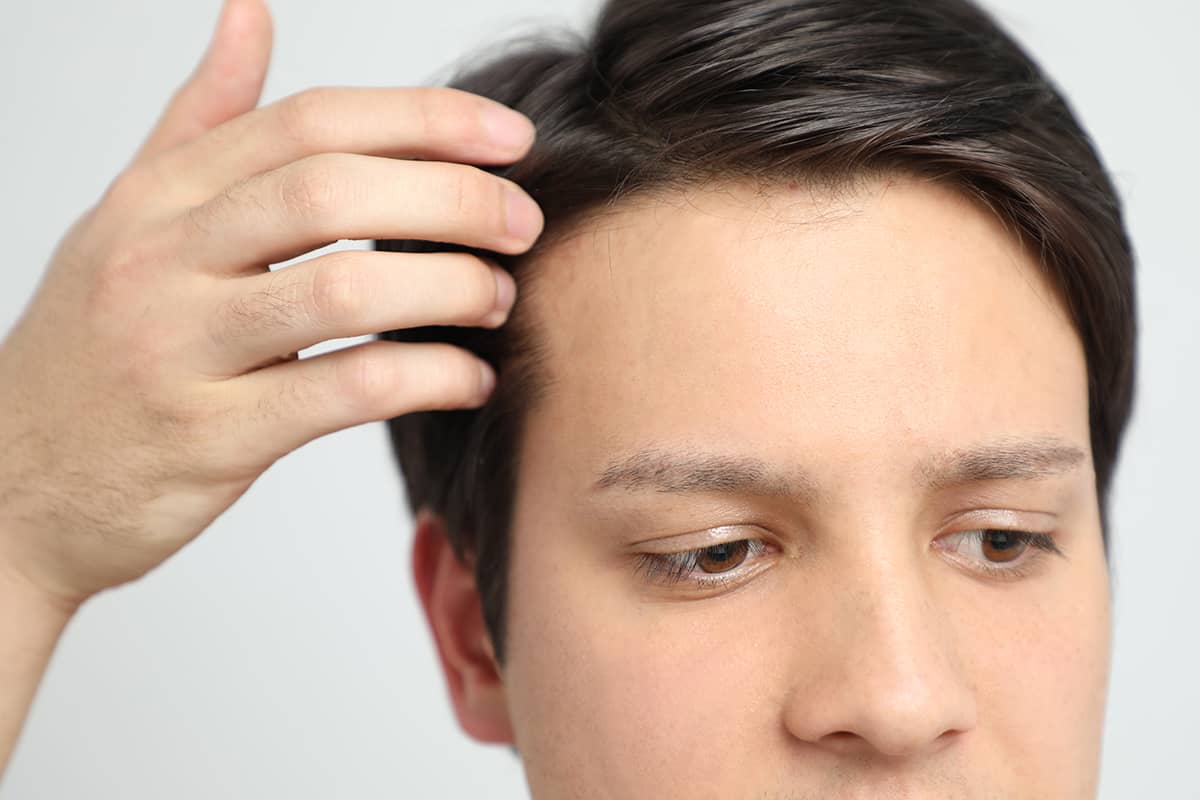 Low-Level Laser Light Therapy
Low-level laser light therapy (LLLT) utilizes laser light to stimulate the scalp and hair follicles. Low-level laser light was first incidentally found to stimulate hair growth when these lasers were used for other purposes. This therapy has been shown to be most effective in slowing down and stopping the shedding of hair associated with active hair loss. It has recently increased in popularity as a stand-alone or adjunctive treatment for hair loss. Low-level laser light can be delivered in the convenience of your home.
In 2007, low-level laser therapy received FDA clearance for the treatment of hair loss, meaning that it was proven safe for hair loss. Today cap-type devices such as the LaserCap and the Capillus deliver the laser treatment conveniently under a baseball cap. These are small, portable lasers whereby treatments can be performed in the convenience of one's home.
Preliminary data gathered from a study performed in Dr. Bared's office shows that the majority of patients who have used low-level laser light therapy for at least 3 months would recommend the treatment to a friend. Clinical data from large-scale controlled trials are lacking, however. By no means should low-level light therapy be considered the long-awaited 'answer' to male or female pattern hair loss. But, it may be an effective treatment option without known risks for patients as a sole treatment or as an adjunctive therapy.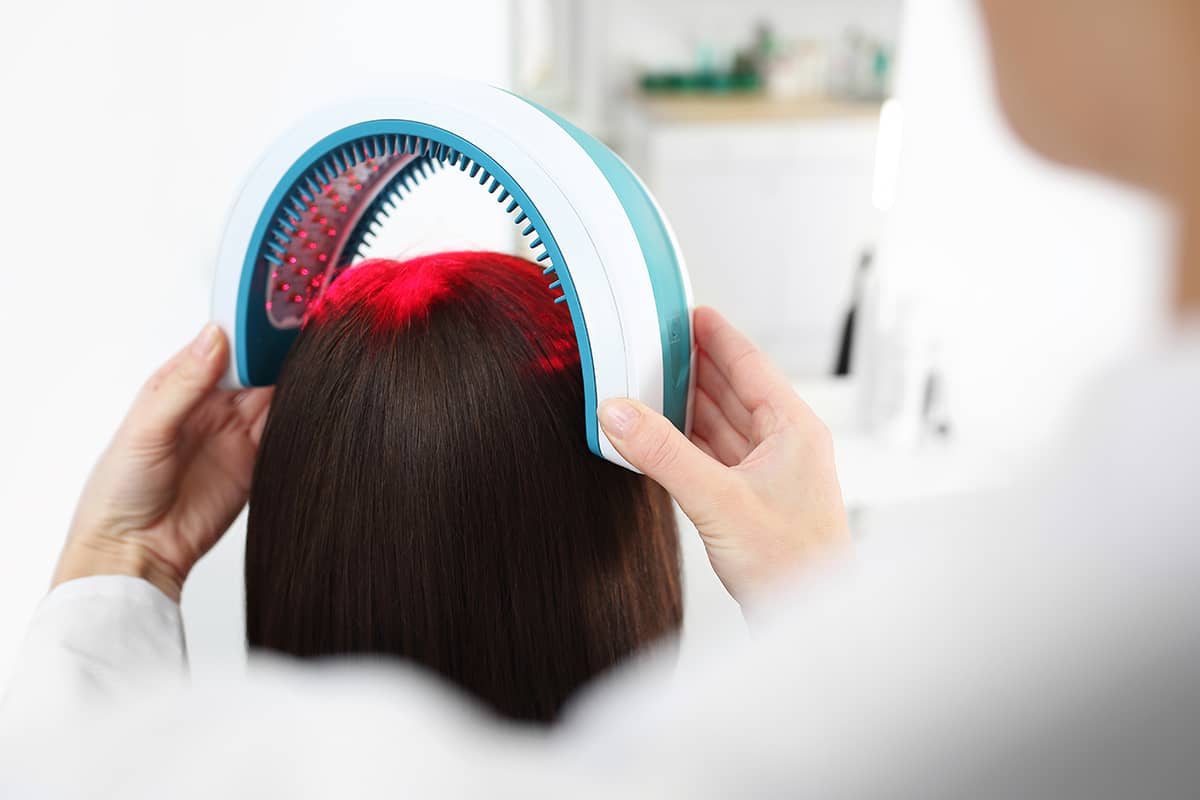 Growth Factors
This hair restoration method has gained popularity as a treatment available for hair loss in both men and women. Platelets are cells found in our blood that promote wound healing and are known to be rich in growth factors (GF). Growth factors are a relatively novel therapy for hair loss although its use in orthopedics has been well-documented. Recently small studies have shown some promising results with regard to hair growth when Growth factors have been injected into the scalp as a means of slowing down the progression of hair loss and even reversing it.
Growth factors are filtered from your own blood cells. It is used alone or in combination with an activator such as ACell. The concentration of platelet is then either used as a stand-alone therapy for hair loss or in conjunction with a hair transplantation procedure to encourage the transplanted hair follicle growth and promote healing. Speak with Dr. Bared regarding the use of growth factors for hair loss or in combination with hair transplant surgery.
Laser light hair treatment and growth factors have enhanced the treatment options for hair loss in both men and women. Given the large volume of hair loss patients seen and treated by Dr. Bared, he has developed indications for the use of these newer treatment options for his patients. Certain treatment options are more effective in specific patients as well as some are more ideal for different areas of the scalp.
Why Choose Dr. Anthony Bared
Frequently asked questions about Non-Surgical Hair Loss
What are the benefits of Nonsurgical Hair Loss treatment plans?
Non-surgical hair restoration treatments offer advantages such as a natural appearance, low discomfort, and quick recovery time. Moreover, they are usually cheaper than surgical options and can be done at home. Furthermore, these treatments may enhance self-assurance by regenerating hair.
Is Non-Surgical Hair Restoration suitable for all types of hair loss conditions?
No, non-surgical hair restoration is not suitable for all types of hair loss conditions. It is best suited for those suffering from mild to moderate cases of genetic pattern baldness or other forms of active hair loss such as telogen effluvium or alopecia areata. It is important to speak with a doctor about your specific medical condition before beginning treatment.
How effective are non-surgical hair loss treatments?
Studies have shown that non-surgical treatments can be effective in slowing down or stopping the shedding of hair associated with active hair loss, as well as potentially reversing it. However, it is important to remember that these nonsurgical procedures should not be considered a general "cure" for all forms of hair loss conditions.
Are there any risks associated with non-surgical hair loss solutions?
Low-level laser hair therapy has been cleared by the FDA as safe for treating hair loss and does not have any known risks associated with it. Common side effects may cause minor irritation at the injection site but otherwise do not pose any known risks either. It is important to speak with your doctor about potential risks before beginning treatment.
What Non-Surgical Hair Restoration office is near me?
If you live near Miami, FL, medical professional Dr. Anthony Bared offers Non-Surgical Hair Restoration among its services and is conveniently located at 6280 Sunset Dr #506, Miami, FL 33143.
Last modified by Dr. Anthony Bared