Discover the Benefits of Hair Transplant Renewal
Balding and thinning hair can profoundly impact one's self-esteem. Thankfully, hair transplants offer a transformative solution, restoring not just hair, but confidence and a sense of youthfulness. Delve into the unparalleled benefits of this revolutionary procedure.
Restored Confidence
No more hats or cover-ups. Flaunt your natural hair with pride, every day.
Natural Appearance
Say goodbye to artificial solutions. Hair transplants give a seamless, authentic look that's indistinguishable from your original hair.
Permanent Solution
It's not a temporary fix.
Cosmetic neck surgery improves the lower face by lifting and firming the jawline, removing jowls, transforming a turkey wattle, removing the fat deposits that create a double chin, and firming the neck.
Professional affiliations & contributions
Miami Hair Transplant Surgery to Regain Real and Natural Growing Hair
Anthony Bared, M.D., F.A.C.S., is a board-certified plastic surgeon and hair transplant specialist from Miami, offering a range of hair restoration procedures to men and women who are struggling with hair loss in South Florida.
Causes of Hair Loss
Hair loss can be caused by multiple factors. However, in 80% of cases, it is hereditary, coming from either one's maternal or paternal side. The age of hair loss onset and the rate of progression vary from person to person.
Androgenic alopecia is the most common cause of hair loss and is the most commonly treated in both male and female patients undergoing hair transplantation. Unfortunately, since most hair loss is caused by genetics, it is impossible to treat the actual cause (we can't change anyone's genetics). Therefore, hair restoration is often the best option.
Before seeking a hair transplant in our Miami offices for hair loss, it is important to be evaluated by a medical professional to ascertain the cause of your hair loss.
Certain hair loss conditions may disqualify patients from having a hair transplantation procedure. You should be carefully evaluated for these conditions before pursuing a possible hair transplant in South Florida. If you are found to have one of these conditions, Dr. Bared will discuss your options with you.
What is a Hair Transplant?
There are two goals to hair restoration: to stop or slow down the progression of hair loss and to replenish hair in the areas where hair loss has occurred.
Hair transplant procedures involve taking hair follicles from areas of a patient's head or body that are resistant to hair loss (typically hair from the sides and back of the head and/or body hair) and using them to restore areas of hair loss. Once the hairs are transplanted, they become established in the new site and create normal hair growth long-term.
Hair transplant surgery has come a long way in the last few decades and today provides patients with natural-looking results that are often permanent. Skilled surgeons like Dr. Bared can even restore hair in small areas like the eyebrows.
Why Choose Hair Transplantation?
Topical hair loss solutions can sometimes slow down the progression of hair loss, but many patients will eventually need a hair transplant procedure to see satisfactory hair restoration results. Many patients are amazed that they are able to achieve a full, thick head of hair with hair transplantation in Miami, FL.
Patients choose hair transplants for many different reasons. However, most people who move forward with the procedure do so because they feel self-conscious about their hair loss and want to boost their confidence and quality of life. Many are frustrated with their lack of results from non-surgical treatments and want a long-term solution that really works.
Hair Transplant Techniques
The Follicular Unit Grafting (FUG or FUT) technique is also more commonly known as the "strip" technique. It is an older method of hair transplantation that is used less frequently these days, now that the less invasive FUE hair transplant has been developed. However, it can be a better option for some patients.
---
Follicular Unit Grafting (FUG)
In the "strip" technique, the donor hair is removed through an incision in the back of the scalp. The length of the incision is determined by the quality of the donor hair as well as the total number of grafts to be transplanted. As a facial plastic surgeon, Dr. Bared has expertise in using the trichophytic closure technique, which allows the hair follicles to grow through the incision and minimizes the appearance of the hair transplant scar. Longer hairstyles will also conceal the scar.
The Follicular Unit Grafting (FUG or FUT) technique is also more commonly known as the "strip" technique. It is an older method of hair transplantation that is used less frequently these days, now that the less invasive FUE hair transplant has been developed. However, it can be a better option for some patients.
Patients who choose the FUG technique typically want to maximize the number of grafts for a procedure while not desiring to buzz their hair. Typically, these are patients who wear a longer hairstyle (greater than 1" to 1 ½"). Patients having smaller procedures (for instance eyebrow restoration) often elect to have the FUG procedure as well.
---
Follicular Unit Extraction (FUE)
Follicular Unit Extraction (FUE) is a method of harvesting donor hair for a hair transplant without the need for a large incision. Follicular units are the natural groupings of hairs as they exit the scalp. These small hair grafts are removed individually with a tiny handheld drill (0.8 mm to 1 mm size drill bits) from the donor area, eliminating the traditional hair transplant scar. This allows patients to wear even the shortest hairstyles following hair replacement.
FUE extractions are typically performed around the back and sides of the head. FUE also allows the use of body, chest, and beard hair for patients who have fewer scalp donor hairs (such as in those who have had previous procedures).
This technique has become the gold standard in hair restoration over the last few years and many of our Miami patients looking for hair loss treatment appreciate their choices in hairstyles after undergoing FUE hair transplant.
The downside of FUE for some patients is that the hair must often be buzzed very short to be able to obtain sufficient grafts for the procedure. However, Dr. Bared is one of the few surgeons offering a "hybrid procedure" allowing some FUE patients to gain the benefit of the technique without shaving their scalp.
When fewer grafts are needed, the "no shave FUE" method may be an option. Instead of shaving the hair entirely, "tunnels" can be made within the longer hair. This allows for the concealment of the donor area while utilizing the FUE technique.
Hair Transplantation Outcomes
Before & After Photos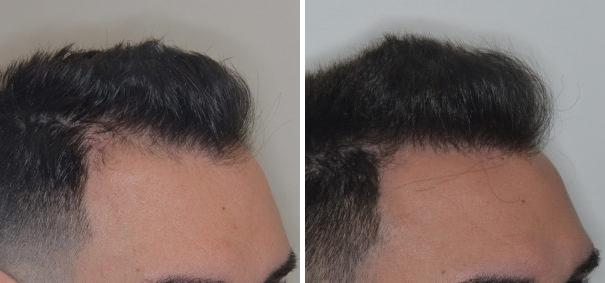 Each patient is unique and individual results may vary*.
Who is a Candidate for Hair Transplant?
Ideal candidates for hair transplantation are men and women in good health who are already taking measures to help slow down the progression of their hair loss. To be considered a good candidate for hair transplant in South Florida with Dr. Bared, patients should not be actively shedding hair. Once a person's hair loss has stabilized, their results are likely to be permanent following a hair restoration procedure.
Although there is no strict cut-off age for when one can undergo a hair transplant, it is Dr. Bared's practice to defer younger patients, encouraging the medical management of their hair loss until it has stabilized. Dr. Bared adopts this approach because he feels it is in the best interest of his young patients. While they may benefit from a fuller appearance for a period of time, hair loss will inevitably progress.
To find out if you are a good candidate for a FUG or FUE hair transplant, schedule a consultation with Miami hair transplant specialist Dr. Bared at his office to discuss your goals.
Your Hair Transplant Consultation with Plastic Surgeon Dr. Bared
Dr. Bared meets with all patients for a hair transplant consultation in Miami before the procedure is scheduled. If possible, Dr. Bared prefers to conduct this meeting in person, but some out-of-town patients may be able to consult with the doctor via phone or webcam.
During the first step of the consultation, Dr. Bared will review your medical history, family history of hair loss, and methods you are currently using to help slow down the progression of hair loss before reviewing your goals for the procedure. Dr. Bared will then assess the quality of your donor hair and examine your scalp.
Before proceeding, he will make recommendations of what you can do to help slow down the progression of hair loss. At that point, if he feels you are a good candidate for hair transplantation, he will discuss with you your options for donor hair harvesting. As he is skilled in both FUG and FUE hair transplant procedures, he will suggest the best options for your individual needs.
Finally, Dr. Bared will make recommendations as to the number of grafts that may be needed to achieve your desired goals. The number of grafts is determined by several factors including the availability of donor hair and the type of harvesting method used.
In order to set realistic expectations, Dr. Bared may show you some hair transplant before-and-after photos of his Miami patients during your meeting. It's a good idea to take a look at hair transplant reviews before your appointment and to come to your consultation with any questions or concerns you may have about the procedure so Dr. Bared can address them.
Preparing for the Hair Transplant Procedure
Very little preparation is required for hair transplant patients in South Florida. If you are a smoker, you should quit for at least several weeks before and after the procedure to help ensure optimal results. You may also need to temporarily stop taking some medications and supplements as directed by our staff.
On the day of the procedure, you should eat a light breakfast before coming to the office. Someone should drive you to and from the procedure, especially if you will be receiving sedation.
The Hair Transplantation Procedure
All of Dr. Bared's hair transplant procedures are performed in his accredited procedures rooms. On the day of your procedure, you will meet with Dr. Bared in the morning.
The doctor will draw in the areas to be transplanted. The area will be shown to you in front of a mirror so that you can approve the plan and see the exact placement of the hairline or the areas to be filled in. Patients will then have their hair shaved, depending on the technique that will be used. At this point, the procedure can begin.
You will be given the option of an oral sedative. Local anesthesia will then be administered to the donor areas. If you are having the FUE technique you will be lying face down during the first couple of hours of the procedure while the hair grafts are being extracted. During the "strip" technique, a larger incision will be made and alternative anesthesia may be used. However, this step will typically be shorter during a FUG procedure.
The hair transplant procedure is a very meticulous process. Once the donor hair has been extracted, more local anesthesia is administered before each small incision (or what we call a recipient site) is made. The recipient sites are tenths of a millimeter in size and each is made to exactly fit the grafts to be transplanted. Dr. Bared then places the individual follicular units, or grafts, into the incisions. This follicular unit transplantation process happens back and forth, repeatedly, until the procedure is completed.
Each graft that is extracted is evaluated under a microscope for its quality and each graft is counted. The recipient sites are made to give the most natural-looking results with the greatest achievable density. As each follicular unit may contain from one to five hairs, these are arranged and transplanted by Dr. Bared and his team to achieve the most natural results.
You should be prepared to spend much of the day in the office depending on the number of grafts you are having transplanted. However, we try to make the experience as enjoyable as possible by having iPads available to watch movies, listen to music, etc. We also give patients small breaks in between to use the restroom, stretch their legs, and also order them lunch in the middle of the day.
After the procedure is complete, you will be provided with detailed written post-operative instructions. These will be reviewed with you before you leave at the end of the day. Most patients elect to return on the following day for their first hair wash. At this time the hair will be washed and the technique for hair washing can be reviewed. If traveling does not permit this, the hair wash can be performed at home using the detailed instructions provided.
Recovering from Hair Transplant Surgery
Each individual heals at a different rate but, on average, it takes around a year for our South Florida hair transplant patients to see the full results of the procedure. The donor area heals in around 3-15 days following the procedure, depending on the hair transplant technique that was used and the individual patient. Dr. Bared will advise you on when you may return to work and resume normal activities.
During the initial healing phase, you will apply antibiotic ointment to the donor area. It is best to sleep with your head elevated for the first week after the procedure. Maintaining head elevation helps to decrease any swelling after the surgery. Patients also find that they benefit from using a travel pillow around their neck when they sleep as this helps to relieve some pressure from the back of the head in the area of the donor site.
The recipient area (where the grafts were placed) will heal in around 5 days. During this time you will have crusts covering the recipient sites. Depending on the recipient site (i.e. scalp, eyebrow, beard, etc.) the crusts may persist for longer periods of time. After several weeks the grafts fall out. The grafts will then become dormant and the transplanted hairs do not grow for several months.
After around four to six months, the transplanted hair will start to re-grow and you will begin to see results.
Hair Transplant Videos
Each patient is unique and individual results may vary*.
Hair Transplant side effects and Possible Risks
Overall, hair transplants in Miami with Dr. Bared are very safe. However, all surgical procedures carry at least minimal risks. Hair transplantation is associated with the following risks and side effects:
Infection
Bleeding
Unfavorable scars
Graft death
Patchy hair
Poor aesthetic outcome
Choosing a hair restoration expert like Dr. Bared and following all pre- and post-operative instructions greatly reduces hair transplant risks.
Why Choose Dr. Anthony Bared
Frequently Asked Questions about Hair Transplants
Does hair need to be shaved in a "strip' procedure?
No. In a "strip" procedure the donor area is not shaved. The hair is kept at its normal length. The hair above the incision covers the donor area.
How much of the donor area needs to be shaved in an FUE procedure?
This depends on the number of grafts being used and the length of the existing donor area. In men with shorter haircuts, the sides and back of the head will need to be shaved to a level of one with a shaver. 

Patients may not need to have their hair shaved entirely if they need a smaller number of grafts and have long hair to hide smaller shaved areas. This is a new option known as the "no-shave FUE" technique and is often ideal for women with long hair experiencing hair loss in Miami. Dr. Bared is one of the very few surgeons offering this option.
Is hair transplantation permanent?
Yes, the transplanted hairs are permanent in that they are taken from areas of the scalp that are not typically susceptible to hair loss. Once transplanted the hairs are long-lasting in the recipient area. However, given that hair loss may continue to progress, the transplanted hair may still fall out. 

Experienced hair loss surgeons reduce this risk by evaluating candidacy carefully and recommending that patients wait until their hair loss has stabilized before moving forward with the procedure. Careful attention to which donor areas are used also helps increase the longevity of the results.  
What is "shock loss"?
Shock loss is the term used for hair loss immediately following a hair transplant. If Dr. Bared feels that you are at increased risk for shock loss, he may recommend measures such as starting medical therapy and delaying a hair transplant. Despite attempts to prevent from occurring, shock loss may still occur. The hairs lost to shock loss do regrow.
What hair transplant office is near me?
If you live near Miami, FL, Dr. Anthony Bared offers hair transplants among its services and is conveniently located at 6280 Sunset Dr #506, Miami, FL 33143.
Are secondary procedures needed?
While hair restoration provides a permanent solution for hair loss, hair loss will progress at a certain rate individual to each person and determined by their genetic makeup. Hair restoration needs to be performed in a manner that accounts for future hair loss. Secondary procedures may be desired if hair loss progresses and density is lost in other areas of the scalp over time.
Is FUE or FUG a better choice?
Today, FUE hair transplant is considered the preferred technique for hair restoration. It prevents the need for a large incision and linear hair transplant scar while producing optimal results. However, it also typically requires that the donor area be shaved completely in order to harvest the grafts.

Patients who wish to wear longer hairstyles and do not want to have their hair shaved completely may be better candidates for the FUG technique or the "no shave" FUE technique. You will discuss your options with Dr. Bared during your Miami hair transplant consultation.
How do I choose a surgeon for my hair transplant in Miami?
It is very important to select an experienced surgeon to perform your hair transplant in South Florida. Don't just look at hair transplant costs to make your decision. You'll want to choose a surgeon who specializes in the procedure, like Dr. Bared.

Many surgeons offer a free consultation, but some of the more in-demand surgeons do charge a fee. It's a good idea to look at several surgeons' hair transplant before and after photos and hair transplant reviews before you set up any consultations, paid or free.
Are there non-surgical alternatives for treating hair loss?
There are various treatments that may help stop or slow down the progression of hair loss. Dr. Bared typically recommends these options to younger patients who are actively experiencing hair loss. However, nothing outside of a hair transplant will drastically restore hair so it is important to have realistic expectations with the following treatments:

 Minoxidil (Rogaine): Topical medication that can be purchased over-the-counter and works in about 40% of patients. Minoxidil typically works best in the back/crown of the scalp and applied twice per day for optimal results.

 Propecia© (Finasteride): an oral medication, typically given in 1mg/day doses, that blocks the conversion of testosterone to DHT. Typically, this medication is prescribed to men experiencing male pattern baldness or genetic hair loss in order to stop or slow down the progression of loss. It typically works in about 70% of men and has been used to treat hair loss for over 15 years. Adverse side effects are rare but can include a reduction in libido, gynecomastia, and lethargy.

Low-Level Laser Light Therapy: a treatment where low-level light (around 670 nanometers) penetrates into the scalp at the cellular level. The exact mechanism of action is not known but it is thought to stimulate the mitochondria of the cell, which energizes the follicle and helps keep them healthy. It has been seen to work in about 70% of patients with no known adverse side effects.
How much does a hair transplant cost?
Every patient wants to know how much a hair transplant costs. The short answer is that it varies. The number of grafts required, the patient's individual hair loss patterns, the area to be restored, and the technique that will be used all affect the cost of a hair transplant. Our staff will go over costs at the time of your consultation and discuss options for financing with you.  
How effective is hair restoration?
It can be difficult to visualize how your final results will appear after a hair transplant in South Florida with Dr. Bared, especially since results vary depending on a combination of factors. Hair quality, areas of hair loss, hair thickness, and color all affect the final results. In general, results with frontal hair loss are more impressive than crown hair loss.

Typically, patients are thrilled with their hair transplant results in Miami with Dr. Bared. This is because he is highly skilled and experienced in creating recipient sites that match the hair growth and angle requirements of the area. This leads to a very natural result. We recommend that prospective patients look at our before and after photos on our website and hair transplant reviews before making a consultation appointment.
Last modified by Dr. Anthony Bared