Hair restoration has long been thought of as restoring hair predominantly in the scalp in men and women who have lost hair for various reasons. Advances in hair restoration techniques have made it possible to transplant hair in to the eyebrows in patients with thinning eyebrows or in patients who may have lost their eyebrows due to over-plucking. Refinements in techniques have allowed for the restoration of eyebrow hair with very natural appearing results. In part, due to fashion and culture trends, along with advancements in techniques Dr. Bared treats many patients seeking to restore their eyebrows.
Professional affiliations & contributions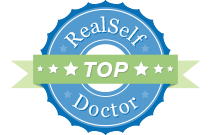 Consultation with Dr. Bared
The goal in eyebrow restoration is to restore the desired shape and density, and natural direction and angle of growth of eyebrow hair. The most common presentation in women is the thinning of the eyebrows either from over-plucking, aging, or genetic causes. Men typically lose the outer aspect of the eyebrows with aging and are seeking overall thicker eyebrows. Upon meeting with Dr. Bared, you will review your goals for eyebrow restoration. It can be helpful to bring in photos of your "ideal" eyebrow as this can guide the plan for your procedure. Dr. Bared will review with you your options for eyebrow transplantation.
The donor hair is almost always the scalp because of its reliable regrowth, although other areas of the body can be used as well but the regrowth is not as reliable nor is supply oftentimes as readily available. In most cases, scalp donor hair extraction is performed from a small "strip" (FUG) from the occipital scalp. In some cases, for instance men who wish to shave their head, the donor hair is harvested via the FUE technique. Once the hairs regrow they will need to be trimmed as they will continue to grow like scalp hair.
Call today to schedule your consultation
Day of the Procedure
You will be seated in front of a mirror in the pre-operative suite. If you have a generally good idea of the shape you desire for your eyebrows. You will be offered an eye-liner pen and are given the time to draw in your desired eyebrow shape. After you are given some time to design your eyebrows, final markings, refinements, and measurements are made by Dr. Bared with a fine marker. Measurements are taken for symmetry. Men seeking eyebrow restoration typically are seeking to fill in areas within the eyebrows which are lacking density. The male eyebrow is designed with less of an arch and as an extension of the existing eyebrow. In women, the point at which the tail and body of the eyebrow meet forming the arch is usually located at or just lateral to the colored aspect of the eye called the lateral limbus. For a more dramatic look, this arch can be far lateral. However, it can vary in position and roundedness. In men, the arch of the brow is not so much as a peek but rather a widening of the eyebrow.
Once the agreed upon shape is achieved in the pre-operative area, you will be offered oral sedative medications for the procedure. Dr. Bared removes the donor hairs from typically the back of the scalp and then his dedicated team of technicians dissect these hairs individually under the microscope. Dr. Bared then makes each incision for the placement of these grafts under magnification.
"I would like to share my journey and express how thankful I am for my experience during my stay in Miami.

It all started after 10 years of mostly wishing for eyebrows and for an eyebrow transplant among other procedures I was also interested to having done. Finally the day came and a couple of months ago I began researching online and came across Dr. Anthony Bared's website.

I heard wonderful things about Dr. Bared that inspired me to go with him in which I was willing to travel to Miami from New Jersey.

Dr. Epstein, Dr. Bared's partner, has blocked rooms at the Hampton Inn Dadeland in Miami for patients who come from out-of-town. The hotel is very near to the doctor's office.

From the very moment stepping off the plane to the time I left to go home I had a wonderful experience from hotel staff (front desk to housekeeping to drivers) being so friendly and accommodating. I rec'd shuttle rides to and from all my doctor appointments and same for airport transportation.

Dan, thank you so much for guiding me along with my travels and scheduling. I couldn't have done it without your help. All things from hotel stay to my doctor appointments went nice and smoothly, everything was perfect, I couldn't have asked for more.

I want to save the best for last. When I arrived on day one to meet Dr. Bared, I immediately felt welcomed and comfortable and felt I would be in good hands. All the staff is so amazingly nice and kind. I don't know how to describe it in words except I truly felt I was at a spa for a week.

The reason I stayed in Miami for a week was, because I had upper upper blepharoplasty, submental liposuction and laser resurfacing and eyebrow restoration.

Dr. Bared took the time to answer all of my many questions and possibly annoying ones too 🙂 . I never at any time felt rushed; it confirms he cares and he made me feel very special.

I loved Dr. Bared for his kindness, compassion and tenderness. Dr. Bared is a friend in my head. Dr. Bared is an exceptional Doctor and a perfectionist at heart, he does wonderful work and I'm very pleased and excited with the results for I can't thank him enough.

Thank you Dan so very much for all you did for me as mentioned earlier it couldn't of happened without your support. My dreams came true and I feel fortunate for having chosen the best doctor and location. I'm so happy to have gone to Miami; I wouldn't hesitate to do it all over again.

With warm and best regards always"
Recovery and Post-operative Care
You will be given detailed immediate post-operative instructions in writing on the day of your procedure. You will also be shown the proper care for the eyebrows as well as the proper care for the donor area. On average, you can expect to have swelling in the transplanted area for 5 to 7 days after the procedure. The transplanted grafts will then fall out and you will return to your original eyebrow shape and hair density. It will then take around 4 to 6 months for the transplanted hairs to begin to regrow with results being seen around 10 months to one year after the procedure. In around 15% of the cases, a smaller secondary procedure can be performed to further increase the density of the eyebrows.