Transformative Benefits Await with Laser Resurfacing
Laser Resurfacing is not just a procedure; it's a revitalization journey for your skin. As one of the most visible organs, our skin often bears the brunt of life's challenges, from sun damage to aging. Laser Resurfacing stands as a beacon, promising a transformation that goes beyond mere aesthetics.
Skin Rejuvenation
Delve into a world where fine lines fade and fresh skin prevails.
Texture Refinement
Bid adieu to unevenness, welcoming a consistently smooth complexion.
Age-Defying Results
Turn the clock back, letting your skin reflect a youthful, invigorated spirit.
Professional affiliations & contributions
Laser Resurfacing for smoother, more youthful-looking skin
Unfortunately, like many materials put in place as a defense, skin is going to be damaged.
No matter how careful you are with your skin care routine, and no matter what precautions you take, eventually your skin will show wear and tear.
Your skin's overall appearance is affected by exposure to the sun, stress and harsh environments, along with normal aging. After your skin cells have been exposed to these things long enough, there are some skin conditions that can develop such as: wrinkles or fine lines, scars, sun-spots, and other blemishes. This is an unfortunate reality, but you don't have to live with it. You can choose to repair your skin for a healthier look with laser resurfacing. This process removes damaged layers of skin and prompts new collagen construction. By having this procedure performed at Facial Plastic Surgery Miami, you can achieve a smoother, more youthful appearance.
When to Consider Laser Resurfacing
Skin damage is not confined to any specific age, and fortunately, neither is Laser Rejuvenation for Miami residents. If you have concerns about the appearance of your skin, this may be the answer to your problems. There are many different conditions which could be helped by having your skin resurfaced, including:
Wrinkles and lines, such as "crow's feet"
Sun damage
Blemishes, such as from acne
Uneven pigmentation, like blotches or brown spots
Scars and acne scars
These problems and more have been successfully repaired by Laser Skin Resurfacing Treatments. There are several factors that go into choosing which type of laser treatment will work for what you need. Some patients require more than one fractional laser treatment in order to achieve optimal results. The best way to determine whether these types of procedures are right for you is to set up your initial consultation with a professional, like Dr. Bared.
The Laser Resurfacing Consultation with Plastic Surgeon Dr. Bared
When deciding to proceed with laser resurfacing for your face, you want to be assured that you are working with an expert. Dr. Anthony Bared of Miami is a notable plastic surgeon who specializes exclusively in facial plastic surgery procedures. He was awarded one of only 43 national fellowships by the American Academy of Facial Plastic and Reconstructive Surgery, which makes his training in this field more rigorous and extensive than 90% of all plastic surgeons in the country. He is also a board certified otolaryngologist (ear, nose, and throat specialist). With his years of top quality training and experience, you can trust him to give you expert advice and perform some of the best work available in Miami, FL.
Dr. Bared will be happy to meet with you for a personal consultation where your goals and desired results will be discussed. During your meeting, he will take all the factors into account, such as age, skin type, skin color, skin tone and texture, and the kind of damage you need repaired. He will then work on developing a plan for treatment personalized for your unique needs. Dr. Bared will explain each part of the process to you, and answer all of your questions so that you are as well informed as possible before you begin.
Laser Resurfacing Before & After Photos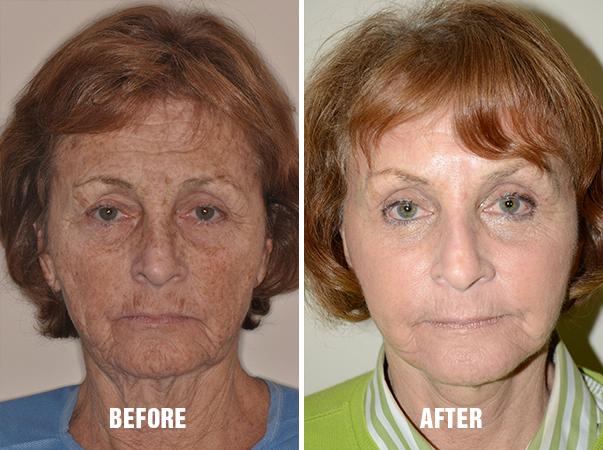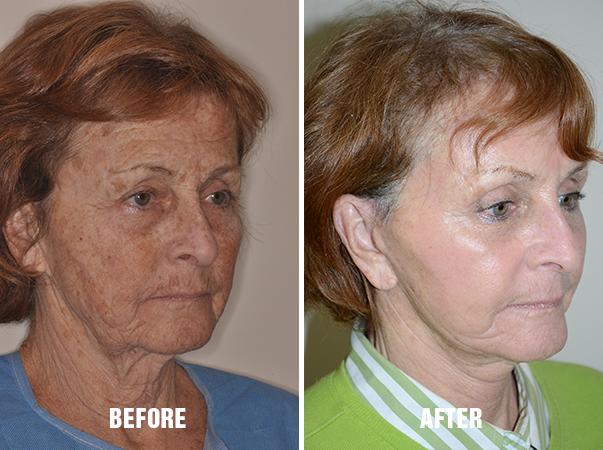 Each patient is unique and individual results may vary*.
The Laser Resurfacing Procedure
A fractionated co2 laser is the kind of laser which creates petite perforations that enter deep beneath the skin, resulting in the production of new collagen. Even though the lasers penetrate the skin, the surrounding surface of the skin remains unbroken. With this less intense procedure, the recovery time can be as short as four to five days.
Dr. Bared will discuss these with you during your consultation, to help you decide which method will work best for the results you desire.
Recovery and Results from Laser Resurfacing
Fractionated laser procedures will have a much shorter recovery time than non-fractionated lasers, but it may take more treatments to get the results you desire. The recovery length will also be determined by the size of the area of the skin on which you had work. A procedure on the entire face will require more time to heal than one done on a specific treatment area. Here are some things you can expect no matter what method was used:
Pink color
Tender to the touch
Swelling
Crusting will appear, but this is normal. Dr. Bared will give you some specific instructions to care for treated areas, which may include:
Rinsing skin with cool water to keep clean.
Avoid soap, or anything with chemicals that may further irritate your skin.
Applying ointment to speed the healing process.
Avoiding sun exposure and protecting your skin.
Avoid other skin treatments such as chemical peels until fully recovered.
Sometimes, even medicine may be required. Dr. Bared has extensive experience, and will be able to tell you exactly what to expect and how to care for your Laser Resurfacing Treatment.
Laser Resurfacing Resources
Why Choose Dr. Anthony Bared