Experience the Transformative Benefits of Forehead Lifts
A forehead lift is more than a simple cosmetic change; it's an avenue to rejuvenation and vibrancy. By addressing the signs of aging and stress that accumulate over time, this procedure is a transformative experience. It's about embracing a refreshed version of yourself and seizing the promise of new beginnings.
Youthful Appearance
Turn back time and wear a smoother, more youthful brow with pride.
Enhanced Expressions
Showcase genuine emotions, unmarred by unwanted lines and creases.
Reduced Fatigue Look
Bid farewell to that perpetually tired appearance, greeting the world with fresh energy.
Professional affiliations & contributions
Forehead lift for a Smoother Brow
One of the most prominent areas where signs of aging can be noticed on the face is the forehead. Creases across the forehead, both vertical and horizontal, are a common complaint in people who wish for smoother skin. A Miami forehead lift with Dr. Bared at Facial Plastic Surgery Miami could be the solution to your problem.
This procedure can materially lessen the appearance of aging on your face, and give you the healthy, more youthful look you desire. Depending on the specific needs of the patient, Dr. Bared may recommend you be seen by a specialist and may refer you to another provider.
When to Consider a Forehead lift
This procedure is an option for men and women who are bothered by the drooping of their forehead over their eyes. Characteristics a forehead lift can improve:
Horizontal lines on forehead, also called "worry lines"
Heavy, drooping appearance of skin on forehead
Thickened appearance of brow due to age
If you suffer from any of these complaints and have a realistic view of the results you can achieve with surgery, you are a great candidate for a forehead lift procedure. For long-lasting, healthy results, it is best if you do not smoke, because habitual use of tobacco is bad for your skin, and can affect your recovery. Once you have determined a forehead lift as an option for you, the next step is to consult with Dr. Bared, a South Miami, FL expert in facial plastic surgery.
The Forehead lift Consultation with Plastic Surgeon Dr. Bared
As one of the best plastic surgeons in South Miami, FL, Dr. Bared is a great option for your facial plastic surgery procedures. Your personal consultation with Dr. Bared takes place at his medical office in Miami. A proper evaluation by a doctor is important before having surgery performed. Things you can expect to discuss:
Why you want the surgery
What results you expect and desire
Your medical history
Your current state of health
Your personal habits (i.e. tobacco and alcohol use)
Anything pertaining to your health, candidacy, or decision for surgery can be discussed by you and Dr. Bared. If you have any questions about forehead lifts, write them down so you remember to ask the doctor. Then you will have a better idea of what to expect. During your consultation, Dr. Bared will help you determine whether surgical or non-surgical methods are best for you.
Forehead lift Before & After Photos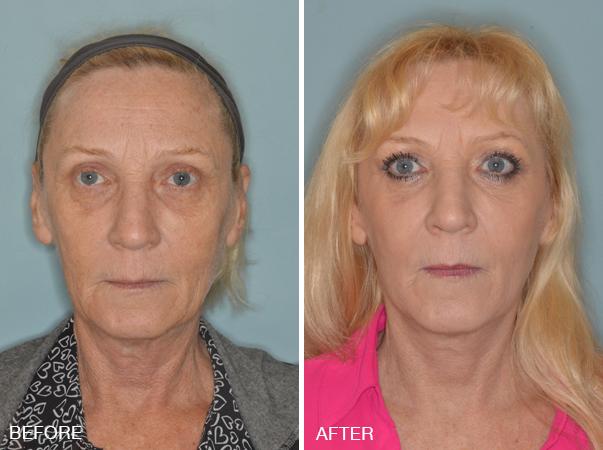 Each patient is unique and individual results may vary*.
Dr. Bared's Approach to a Surgical and Non-surgical Forehead lift
Dr. Bared is highly experienced with forehead lift procedures, and you can expect the utmost safety and efficiency. There are surgical and non-surgical options when fixing lines and creases on the forehead:
Non-surgical Forehead lift Option
Botox can be used to give temporary smoothing results for your forehead. Often, patients are pleased with the open and more youthful appearance they can achieve with injectables. Using Botox around the eyes and forehead works to weaken specific muscles, which causes other muscles in the area to work against gravity and reduce lines and drooping.
Surgical Forehead lift Option
For longer lasting results, some patients prefer to have a surgical forehead lift procedure, called a browlift. These can be performed as an isolated procedure, or in conjunction with other procedures, such as a facelift or eyelid surgery. The doctor creates small incisions in the skin at your hairline, where the scars can be concealed. Then a special instrument is used to alter, reposition, or remove skin from the forehead to correct lines and creases. Then the incisions are closed, and you are on your way to recovery.
Recovery and Results from a Forehead lift
Dr. Bared will provide you with detailed instructions to care for your surgical site. You may be prescribed medication to aid the healing process and lower your risk for infection. Bandages may also be necessary. There may be mild swelling and bruising after the surgery, which will fade as you recover. When your recovery is finished, you will have a smoother, more youthful forehead.
Forehead lift Surgery Resources
Why Choose Dr. Anthony Bared