Anthony Bared, M.D., F.A.C.S., of Facial Plastic Surgery Miami, is an expert in facelift surgery: a complex and customizable procedure, producing natural yet dramatic results for patients. Depending on the specific needs of the patient, Dr. Bared may recommend you be seen by a specialist and may refer you to another provider.
Facelift Before & After Photos
Each patient is unique and individual results may vary*.
How We Age and How Facelift Can Help
Getting older is inevitable and the symptoms of aging can be especially noticeable in the facial skin, which is often exposed to environmental elements that accelerate the aging process. Sagging skin, the development of jowls, and the loss of neckline definition are all characteristics that can develop in the face over time.
Lifestyle choices and changes in the body, such as smoking, weight loss, and sun damage, can also cause facial skin to appear older. Those who want to give their skin a younger, healthier appearance may want to consider a facelift procedure.
Through facial rejuvenation, patients have more control over the appearance of their changing faces. Facelift surgery, also known as rhytidectomy, is an anti-aging cosmetic surgery that can reverse or improve many age-related changes in the face and neck. During the procedure, skin, facial muscles, and underlying tissues are tightened, trimmed, and contoured to produce a more youthful look.
While science has not yet found a way to stop signs of aging from progressing altogether, patients can improve existing changes and enjoy a younger appearance for many years with plastic surgery. Through surgical intervention, Dr. Bared can turn back the clock and help patients look and feel their best.
Why Choose Facelift Surgery?
Older men and women often feel dissatisfied with their looks due to wrinkles or drooping skin on the face and may find facial rejuvenation beneficial. Below are some of the hallmarks of age that facial rejuvenation can address:
Jowls caused by muscle tone loss
Loose skin and fat deposits that cause the appearance of a double chin
General loose or sagging skin and muscles in the face due to age and collagen loss
Loose or sagging skin due to facial volume loss
Each of these unwanted changes can be addressed during a facelift surgery with Dr. Bared at Facial Plastic Surgery Miami in South Florida.
Am I a Candidate for a Facelift Procedure?
Men and women in overall good health who want to reduce sagging skin and other signs of facial aging are often ideal candidates for surgical facial rejuvenation. Good skin elasticity is also important for candidacy because the tightened facial skin must be able to stretch easily for patient comfort and a realistic result. It is also best to be a non-smoker or have plans to quit, as this habit can affect the healing process and increase surgical risks.
Prospective patients should understand that there are several factors that could affect their candidacy for surgery with Dr. Bared. Poor health can create unnecessary risks while the patient is under anesthesia. Many health problems can affect healing, results, and the patient's safety and may make patients ineligible for elective surgery.
Finally, good candidates for this popular surgical procedure should have realistic expectations. Facial surgery can lead to dramatic anti-aging results, but it won't make patients look like they're back in their 20s.
Patients who are interested in discussing their candidacy for plastic and reconstructive surgery should set up a consultation with Dr. Bared to learn more.
Facelift Before & After Photos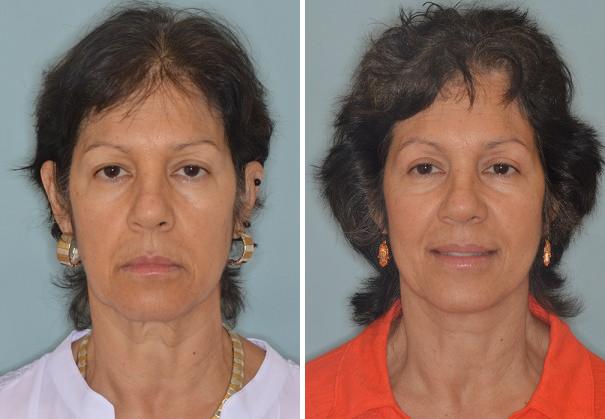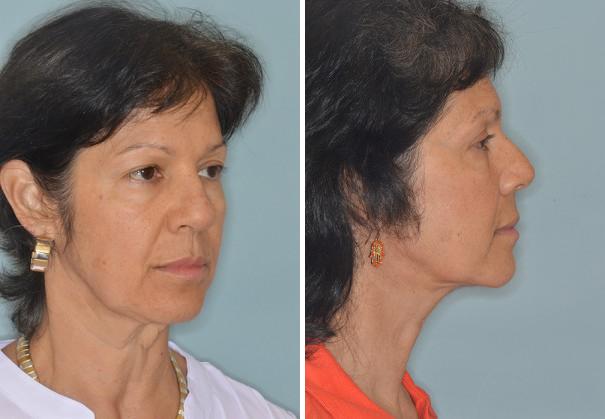 Each patient is unique and individual results may vary*.
The Facelift Consultation
Prospective patients of Dr. Bared can set up a personal consultation with him at his medical office in Miami. Facelift surgery is often an invasive surgical procedure, and a meeting with the doctor is necessary for the proper evaluation of the patient's candidacy. Prospective patients should be prepared to discuss:
Reasons for wanting surgery
Desired results and expectations
Medical history
Their current state of health
Personal habits, like tobacco use and alcohol consumption
Anything that pertains to a person's health or wellness may affect candidacy. It is a good idea for patients to come prepared with a list of questions for Dr. Bared about the facelift procedure to ensure that they feel fully informed about the process and what to expect.
Dr. Bared will explain all the available options, describe the procedure in detail, and explain the expected results. The consultation is an opportunity for an honest discussion about the ways Dr. Bared may or may not be able to serve an individual patient's needs.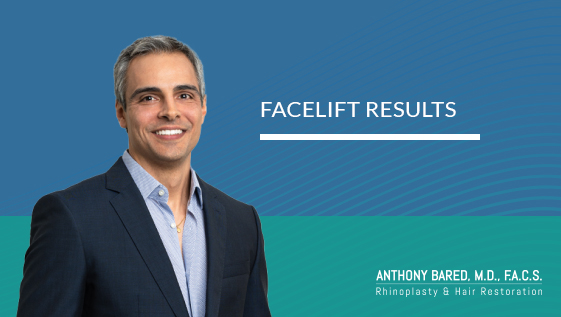 The Facelift Procedure
Dr. Bared is experienced in performing facial rejuvenation surgery and can be trusted to complete the facelift procedure as safely and efficiently as possible. A rhytidectomy is a delicate procedure that consists of the 4 basic steps:
1. Anesthesia
Administering anesthesia helps to prevent pain and discomfort during surgical procedures. Each patient has individual needs, so Dr. Bared will recommend either general anesthesia or intravenous sedation depending on the situation. These options can be discussed during the doctor-patient consultation.
2. Incisions
Dr. Bared will begin the procedure by creating the necessary incisions around the ears, within the hairline, and sometimes, under the chin. This will allow him to tighten the skin while causing minimal trauma to the face.
3. Contouring & Tightening
Once the incisions are made, the underlying facial tissues are tightened. This results in effective lifting and natural contouring of the face while preventing the unnatural, "windswept" results that can occur with a less experienced surgeon. During this step, other facial surgeries can be performed to enhance the results of the procedure.
4. Sutures
After the facial tissues have been refreshed, Dr. Bared will close the incisions with sutures, or stitches. These will be removed after a week or two, depending on each patient's personal recovery. Any resulting scars will be hidden beneath the hairline or in the natural contours of the face.
Popular add-on procedures include blepharoplasty (anti-aging eyelid surgery), forehead lift, neck lift, and facial fat transfer. These options can be discussed during the consultation. Dr. Bared's familiarity with delicate facial anatomy allows him to reduce patient risk and can lead to a faster recovery.
After the procedure, facelift patients can be driven home to begin the recovery process.
Facelift Before & After Photos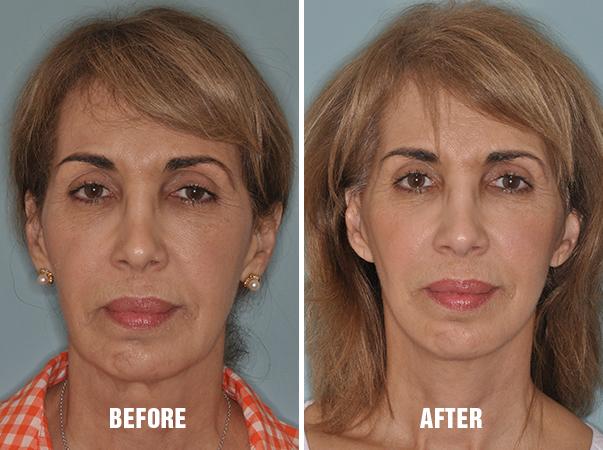 Each patient is unique and individual results may vary*.
Mini Facelift
Patients with less significant facial sagging may be candidates for a less invasive facelift technique known as the mini facelift. Typically, the corrections are focused within the mid-face and are not intended to improve jowls and neck laxity.
During the procedure, shorter incisions are created to correct more superficial tissues, which is why the procedure is sometimes referred to as a short scar facelift. Because the incisions stop at the earlobes, the surgery is generally reserved for patients in their late 30s and early 40s who are showing moderate signs of aging in their upper and mid-face.
Recovery
Patients recovering from plastic surgery can return to their homes or a hotel after the procedure in the care of a friend or family member. Typical recovery time before returning to most everyday activities is 2 weeks, though the process varies for each individual. Some side effects that can be expected after a rhytidectomy include a tight feeling in the face, swelling, and bruising.
During recovery, patients are expected to follow all instructions for at-home care to aid in their healing. This can include managing their:
Compression bandages
Wound care
Medication
Patients should follow Dr. Bared's directions while recovering at home to minimize risks like infection and poor results. Elevating the head, using the compression bandages as directed, and taking prescribed medication correctly are some of the best methods to help relieve symptoms more quickly.
Facelift patients will need to take some time off from normal activities, including work, in order to heal. The recovery progress will be evaluated during a follow-up visit, and the stitches might also be removed at this time. Suture removal will occur within 7-14 days after the procedure when there has been sufficient healing.
If patients follow their aftercare instructions properly, they can expect to start seeing the facelift results discussed with Dr. Bared in the weeks and months following surgery. In order to maintain these results, it is important to avoid smoking and unprotected sun exposure and to maintain a healthy lifestyle.
What Are The Possible Side Effects and Risks of Surgery?
Dr. Bared is precise in his approach to patient care. He performs all the necessary steps for evaluating candidates prior to accepting patients for facelift surgery and may request additional medical testing or documentation to avoid unnecessary risks.
The doctor performs the surgery with help from a team of expert medical professionals to ensure the safest surgery possible. Regardless of Dr. Bared's precautions, however, there can be unexpected issues that arise during or after surgery. Review the information below with Dr. Bared during the initial consultation to ensure that you understand the risks, which can include:
Swelling and bruising
Infection
Nerve damage
Unfavorable results
Allergic reaction to instruments or medications
Numbness
Why Should I Choose Dr. Bared to Perform My Facelift?
Anthony Bared, M.D., F.A.C.S., is a skilled and experienced plastic surgeon in South Florida offering a wide range of plastic and reconstructive surgery procedures. He specializes in facial plastic surgery procedures and offers a variety of facelift techniques and other anti-aging treatments.
Known for his skill and experience, Dr. Bared's resume is impressive and extensive. The American Academy of Facial Plastic and Reconstructive Surgery has awarded only 43 national fellowships, with Dr. Anthony Bared as one of these exclusive recipients. His training has been both rigorous and extensive, allowing him to hone his surgical skills and offer patients exceptional results.
Dr. Bared is double board-certified by the American Board of Facial Plastic and Reconstructive Surgery as well as the American Board of Otolaryngology. You can meet Dr. Bared virtually by reviewing his qualifications prior to scheduling an appointment with the doctor.
Frequently Asked Questions
What changes does Dr. Bared create during a facelift?
During a rhytidectomy, Dr. Bared can lift the facial muscles, remove or adjust facial fat, trim away excess skin, and refine the jawline. The surgical technique can vary depending on the patient's desired outcome. Dr. Bared offers variations of the procedure, including the mini facelift and the deep plane facelift to meet each patient's needs.
Does Dr. Bared's facelift address both face and neck imperfections?
Facelifts can be customized to treat specific areas, like the mid-face, or performed at a deeper level and over a more extensive area of the face during a deep plane cosmetic procedure. 

When the jowls and double chin are addressed during the procedure, the look of the neck can be improved. Typically, the best corrections of the neck occur during a neck lift surgery, or platysmaplasty. During the surgery, the bands of the neck are surgically improved to lessen the look of vertical neck bands, fatty deposits, and loose skin.
What leads to facial skin aging?
The main factors involved in facial aging include:
• Genetics
• Exposure to the sun's UV rays
• Weight fluctuations
• Smoking and drinking
• Time and gravity
Will a facelift improve the look of nasolabial folds?
A deep plane facelift, sometimes coupled with dermal fillers or laser skin resurfacing after surgery, is the best option for improving the nasolabial folds. This version of the surgery will address the lower face, which is where nasolabial folds, the parentheses that form around the mouth, occur.
How does Dr. Bared avoid an over-corrected look?
By examining the facial skin, creating the most conservative changes necessary for dramatic results, and combining other surgeries with rhytidectomy, Dr. Bared is able to create a refreshed, realistic new look.
How should I prepare for my facelift consultation at Facial Plastic Surgery Miami?
Be clear about your desires

Before any surgical aesthetic treatment, patients should first be able to articulate what they hope to change about their appearance. With a better understanding of the patient's perspective, Dr. Bared can create a treatment plan based on their desires.

Do some independent research on available options

Some plastic surgeons choose to specialize in specific procedures. Dr. Bared is a facial plastic surgeon and only performs cosmetic surgery of the face and neck. By limiting his practice, he has become a top plastic surgeon in the Miami area for his specialization and focus. Rather than splitting his time and operating on various areas of the body, he is an expert in a select set of procedures that he performs full-time.

Dr. Bared has a menu of treatment options on his website for patients to browse. By learning in advance about how different plans can address specific issues, patients can maximize their time at the consultation. Rather than reviewing all the surgeries the doctor performs, Dr. Bared can focus on those that may offer the most improvement for the patient's needs.