Earlobe Repair for more natural looking Earlobes
There are also some who gage their ears larger with earrings made to stretch piercing holes, only to find that they wish to have their earlobes back to a normal pierced or un pierced state. Sometimes, you may just be dissatisfied with the way your ears look naturally, in which case maybe an otoplasty (ear reconstruction) is what you need. Whether you want to repair your earlobes, or alter your entire ear, Dr. Bared at Facial Plastic Surgery Miami can help you.
Earlobe Repair Before & After Photos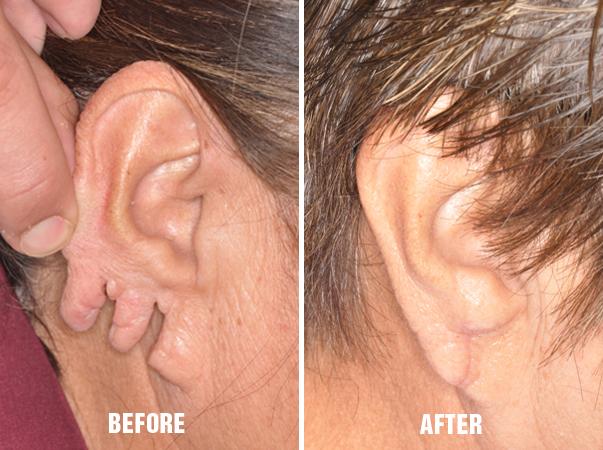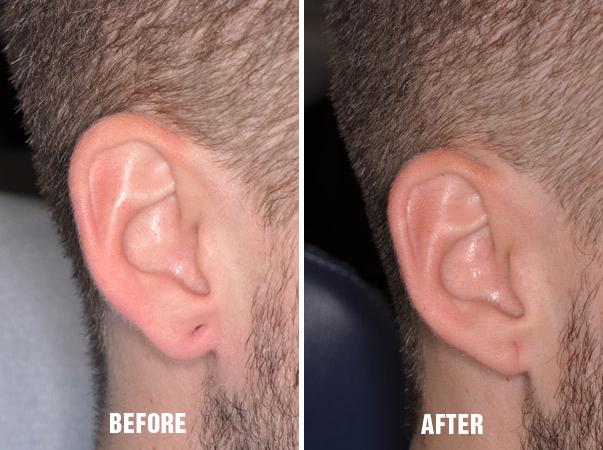 Each patient is unique and individual results may vary*.
When to Consider Earlobe Repair
If you have a desire to repair holes, stretching, or lengthening of your earlobes, then you may be a candidate for an earlobe repair surgery. This surgery can fix:
Enlarged piercing holes
Stretched earlobes
Torn earlobes
Earlobe tearing can happen to men and women, and is sometimes the result of an accident. You don't have to accept these characteristics that make you unhappy or unable to wear your jewelry as you like. You can have them repaired almost like new, with a simple procedure with Plastic Surgeon, Dr. Bared of South Miami, FL. It is always best that an individual is in general good health before undertaking any surgical procedure, even a minor one. You should also avoid smoking, which may slow the healing process, and is detrimental to your overall health. You should also avoid over the counter aspirin or aspirin-type anti-inflammatory products such as Ibuprofen for two weeks before your procedure. If you think that earlobe repair is right for you, then you should set up a consultation to discuss your candidacy, the procedure, and the results you are looking for.
The Earlobe Repair Consultation
Dr. Anthony Bared is a highly trained plastic surgeon who has performed all manner of facial plastic surgery with great success. He is also an experienced ear, nose and throat doctor, so he is very familiar with the health and biology of the human ear. You can rest assured that he will do everything possible to give you the results you are looking for. With him, you can get some of the best work available, as well as expert advice and answers to your questions. During your consultation, he will discuss many things with you, like:
Why you want the surgery
What results you are looking for
How the damage occurred
Your medical history
Your current state of health
He will be friendly and professional, to make you as comfortable as possible during your meeting. After discussing these things with you, Dr. Bared will be able to advise you on the best course of action. If you want results for your entire ear, he may recommend that you have your earlobe repair done during an otoplasty, where he can do more extensive reshaping and resizing. However, if you are looking for simple earlobe repair only, the process is quite easy. If you like, you can bring a list of questions to your consultation, which he will be happy to answer. Then you can feel fully informed and reassured when you make your decision. At the end of your consultation, you will know whether earlobe repair is right for you. Then you can go forward with the procedure.
Dr. Bared's Approach to a Earlobe Repair Procedure
If you have decided to have more extensive work done on your ear with an otoplasty, you can visit our page to read more there. Earlobe repair will only affect a small portion of your ear, and won't alter the overall appearance like an intensive otoplasty procedure. If you decide to opt for more extensive ear work, your earlobe repair will happen while he performs the rest of what you need. However, if all you need is earlobe repair, this can be achieved right in the office with a local anesthetic. It is a quick and relatively painless procedure. Here is a general idea of what to expect:
Local Anesthesia in the Earlobe Repair Procedure
You won't need anything stronger than this, as the procedure is fairly quick and simple. Dr. Bared will explain this to you during the consultation.
Incision in the Earlobe Repair Procedure
The doctor will create raw edges of skin, which can then be brought together to heal into one whole piece. Various techniques can be used depending on if you want to shorten your earlobes by removing excess skin. You can ask the doctor exactly what he will need to do for your particular procedure, so you know what will be happening.
Sutures done in the Earlobe Repair Procedure
Typically, sutures are removed in one week. Dr. Bared will explain what you can expect.
Frequently asked questions about Earlobe Repair
What Earlobe Repair office is near me?
If you live near Miami, FL, Dr. Anthony Bared offers Earlobe Repair among its services and is conveniently located at 6280 Sunset Dr #506, Miami, FL 33143.
Recovery and Results from a Earlobe Repair
Dr. Bared will give you instructions for the care of your repaired earlobe, to ensure a healthy recovery. You can expect some mild discomfort, which may be alleviated with over the counter tylenol. There may also be itching or tenderness, but it will heal within a few days. You will apply antibiotic ointment twice a day for 5 to 7 days. To further improve the healing, Dr. Bared may have you use silicone sheeting tape on your earlobes at night starting at about 3 weeks after your procedure. Your earlobe will be as good as new, and you can follow up with Dr. Bared to make sure. You should be able to return to wearing earrings in about three months.
Thank You Cards from our Patients
Why Choose Dr. Anthony Bared
Last modified by Dr. Anthony Bared