Experience the Benefits of Chin Augmentation
Achieving facial symmetry isn't just about aesthetics; it's deeply connected to our self-esteem. A chin implant, expertly tailored, can be the subtle game-changer, balancing your face while boosting your confidence, making you feel truly harmonious.
Facial Harmony
A chin implant harmonizes your facial features, granting a more proportionate and cohesive look.
Boosted Confidence
No more being self-conscious! Experience renewed self-assurance with a well-defined chin.
Permanent Solution
Unlike fillers, a chin implant provides lasting enhancement, ensuring your chin remains on point for years.
Professional affiliations & contributions
Chin Implants to shape and balance the face
The chin is an area with which many people have trouble. It may be weak or undefined, which can cause your face to lack definition and make your profile less than you wish it was. It isn't necessary to suffer dissatisfaction with your face any longer. You deserve to be comfortable with your appearance, and Dr. Bared can help you achieve this with chin implants at Facial Plastic Surgery Miami. It is a common and safe procedure which many individuals have undergone with great success.
These implants can provide definition and change your profile to give you the look you desire. Depending on the specific needs of the patient, Dr. Bared may recommend you be seen by a specialist and may refer you to another provider.
When to Consider a Chin Implant
So, how will this option work for you? If you want to determine your candidacy for chin implants, then you need to ask yourself a few questions:
Are you dissatisfied with the look of your chin?
Are you in good physical health?
Do you have realistic expectations of what surgery can achieve?
Do you live a healthy lifestyle?
If answered yes to these questions, then you are a candidate for chin implants. A healthy person with realistic results in mind should have no problem getting chin implants put in place. It is important to consider all of these things carefully before undergoing surgery, so you know that it is what you really want to do. Changing your chin with this surgery can fix:
Small chin
Weak chin
Facial balance
If you have not reached physical maturity yet, it is best to wait before having such procedure performed. Growth will change the shape of your face and can shift things around into awkward positions. When done properly, chin implants will define your face by bringing better balance, proportion and creating more distinct features. If you meet the listed qualifications, then you are a good candidate for chin implants and should schedule a consultation with Dr. Bared. He can answer any questions you have and help you determine if this procedure is right for you.
The Chin Implant Consultation with Plastic Surgeon Dr. Bared
Your consultation will take place at Facial Plastic Surgery Miami with Dr. Bared, who is a board certified with extensive experience. Facial procedures are his specialty, and he can offer you some of the best work available in the country. His is a trusted name in the Miami area. He will discuss many things with you pertaining to your potential chin implant surgery. It is a candid interview where you can expect to answer many questions, including:
Medical history
Motivations for surgery
Current state of health
Your expectations
Your lifestyle and habits
Bad habits like smoking can interfere with the healing process after surgery, and they can be detrimental to your health as well. It is important to be completely honest, so that Dr. Bared can give you the best possible advice and information. He will be truthful and realistic with you and answer any questions you may have. A good idea for you is to make a list of questions you want answered, so you don't forget any while you are meeting with him. He will explain the procedure, as well as any risks, and by the end you should have an excellent idea of what to expect. If you both determine that chin implants are right for you, the next step is to schedule the procedure.
Chin Implant Before & After Photos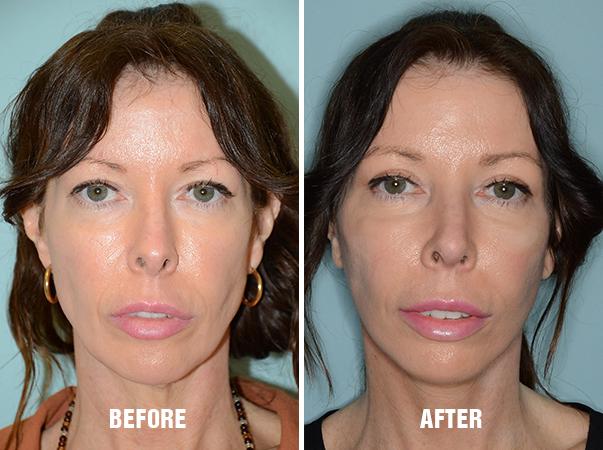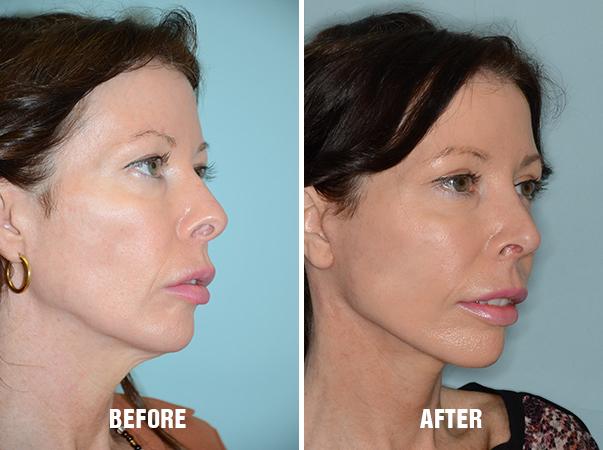 Each patient is unique and individual results may vary*.
The Chin Implant Procedure
Chin implants are often performed in conjunction with other facial plastic surgery procedures, such as rhinoplasty, facelifts, etc., but they are also performed alone if that is what is needed. It will follow a general plan:
Anesthesia for a Chin implant Procedure
You can have either general anesthesia or intravenous sedation. The doctor will advise you as to the best option for you. This will promote your comfort while the work is performed.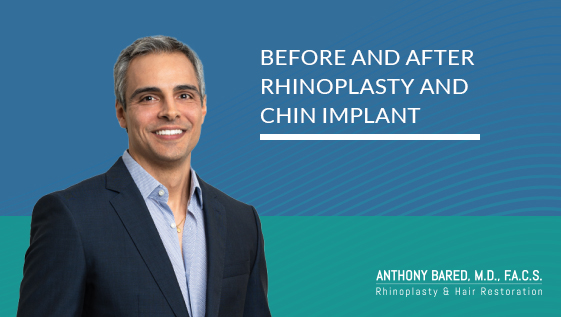 *Each patient is unique and individual results may vary.
Incision in a Chin Implant Surgery
The incision is made beneath the chin in the natural contours, in order to conceal any resulting scar. Dr. Bared avoids the placement through the mouth as this could contaminate the implant and lead to an infection. Implants are then inserted and adjusted accordingly, to give you the results you desire. After they are firmly implanted, the doctor will close up the surgery site.
Sutures in a Chin Implant Procedure
These stitches will be put into place to close the incision and promote fast healing. They will need to be removed at a follow up appointment.
After the surgery is completed, you will be able to go home and begin your recovery.
Recovery and Results from a Chin Implant
The results of chin implants are visible almost immediately, though they may be hidden beneath swelling at the beginning. This is to be expected, and it can take several months to heal in some cases. It is extremely important to care for your surgery site properly by closely following the detailed instructions which will be provided to you. After your procedure, you can expect to encounter:
Swelling
Bruising
Discomfort
These are perfectly normal, and pain can be managed with medication if necessary. If you have had other work performed at the same time, more care will be needed, but proper directions will be provided to you. Healing can be a lengthy process, but when everything settles, you will be able to enjoy your new profile and feel confident about your appearance.
Why Choose Dr. Anthony Bared