Miami's Trusted
Facial Plastic Surgeon
One of the more specialized areas for Dr. Bared in hair restoration is his techniques in beard hair restoration. Beard hair restoration is very rewarding for patients. Facial hair restoration is a specialty within hair transplantation which is not performed by many hair restoration surgeons. Many seek Dr. Bared as their facial hair restoration surgeon, given his unique background as a facial plastic surgeon. Dr. Bared's background as a facial plastic surgeon affords him the artistic capabilities to produce very natural results in facial hair restoration.
Consultation with Dr. Bared
Most patients seeking facial hair restoration have a good idea of how they would like their beard to look. On the day of your consultation, Dr. Bared will listen to your goals, assess your donor hair and existing facial hair pattern. You will both then determine a plan for your facial hair procedure. The amount of existing facial hair and the desired design will determine the amount of grafts needed for the procedure. In some cases, secondary procedures are needed to achieve the degree of density some seek. Given that a lot of Dr. Bared's facial hair restoration patients travel to see him, Dr. Bared performs consultations over webcam for his out of town patients.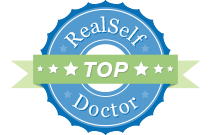 Facial Hair Restoration Video Gallery
The procedure
If you elect to do so, an oral sedative can be taken for the procedure. The vast majority of the beard hair transplantations Dr. Bared performs, utilize the FUE technique for donor hair extractions. Depending on the number of grafts needed, the back and sides of the scalp are then buzzed for the donor hair. The initial part of the procedure commences with the extractions of the grafts from the donor area. Once the majority of the grafts for the transplantation are harvested, the transplantation of the grafts are then made to the facial area.
Dr. Bared utilizes the smallest incisions possible for beard hair transplantation. The incisions are made with specializes blades which are prepared in his clinic. The smallest possible incisions help to ensure the best results in facial hair transplantation.
Recovery
You are to keep the face dry for the first 5 days after the procedure. This allows for the grafts to set properly. Topical antibiotic ointment is applied to the donor area whether a strip or FUE technique was used. You are then shown how to wet the face after 5 days with soap and water, starting to remove the crusts. Shaving is permitted after 10 days.
Pinkness to the face can be present after the procedure and usually resolves after a few weeks. Pinkness to the face is most commonly seen in patients with very fair complexion. Hair regrowth usually starts around four to six months. The transplanted hair can be treated as any other facial hair and allowed to grow out or shaved. Most patients are satisfied with the initial density from one procedure but a secondary, touch-up procedure can be performed after 1 year to create further density.